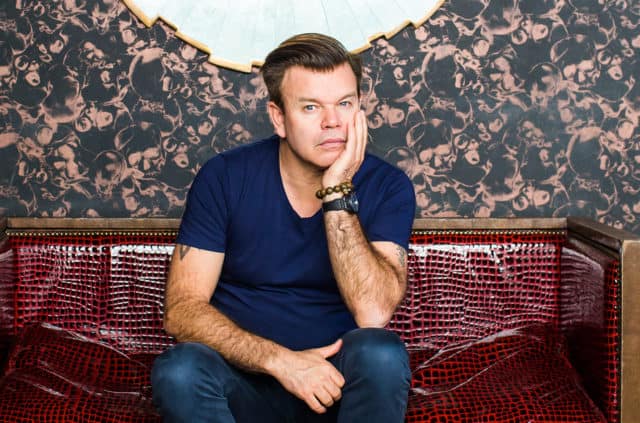 Paul Oakenfold has an interesting history. As of this current date he's been a DJ, record producer, chef, actor, and remixer.  He's been largely into the trance genre, which is an offshoot of techno. His contributions to the movie scene has largely been through stunning remixes that are well done and very hypnotic in a way. his life didn't start out in music however as he studied to be a chef and then worked at the Army and Navy club for a while. To be fair music has been a large part of his life for a while and he even described himself as a bedroom DJ for a spell. This is how a lot of great talents start out though, practicing and practicing until they have the skill and confidence to get up in front of a crowd. Oakenfold was actually named the best DJ in the world twice in 1998 and 1999. That alone sets him up as a skilled individual that knows what he's doing.
Here are a few of his contributions to the music and movie industry.
5. Oculus-Oculus Remix
If you lose your parents due to unusual circumstances when you're young and then move on, maybe it's best to keep moving. If you know that a demon-possessed mirror was the cause of all your problems, keep moving on. Sometimes the past really can hurt you, and in the case of this cursed mirror it really, REALLY wants to. So the idea of keeping the mirror is not a good one, nor is trying to find out just what happened all those years ago.
4. Swordfish-Unafraid
Doing the dirtiest deeds in the world to prevent terrorism kind of makes you the terrorist. And if you're doing it to your own countrymen that kind of makes you the worst kind of terrorist, the one that essentially does thing for their flag but disgraces that same flag all the same. The roundabout arguments in this movie can make your head hurt, but some of them make sense.
3. Big Brother Theme
It's kind of like Survivor but without the need to battle against nature. Five housemates are confined to a home and must eventually start voting each other off. Eventually the last person remaining wins a cash prize and the distinction of having lasted the longest. In many ways it seems to promote drama between people which seems, for lack of a better word, odd.
2. Planet of the Apes-Rule the Planet Remix
This was an attempt to bring back the glory days of Planet of the Apes but it fell pretty flat. The music was great and the effects weren't too bad but the whole story was kind of off and didn't really go into how the apes got to be the way they were until near the end of the film. The reveal was kind of lame and the explanation of Ca Li Ma was a little funny to be honest.
1. Collateral-Ready Steady Go
A cabbie vs. a professional hitman. That's really how it goes. A lone cabbie has to ferry a hitman around for a night to get paid and it's only at the first hit that he realizes just what he got himself into. As the night progresses the killer and the cabbie continually banter back and forth as they try to figure one another out. Only towards the end does the cabbie realize what he has to do to stop the killer.
Paul Oakenfold really knows how to lay down a track, that's for sure.