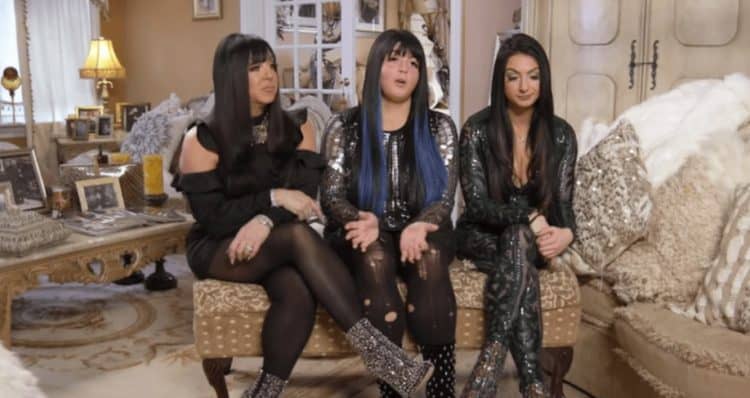 'Unpolished' is a new series on TLC which chronicles the life of Lexi Martone, a nail artist with a knack for some of the most extraordinary designs ever to be put on human hands and a social media following to match. Her family is loud, loving, and quite boisterous, and they provide the perfect backdrop for Salon Martone, the Long Island business she and her sister Bria, a hair stylist, own and operate.
Many of you likely haven't had the chance to see the show; I know that I haven't. But I must admit that upon study I found the premise entertaining, and sure enough I want to check it out. But until I am able, I figured it would be best to learn as much as I can about the program and share it with you. A show that shares the escapades of two sisters trying to make a go of it in a predominantly female-run business may seem like a thing of yesterday, but with today's television being what it is, the idea is really quite refreshing. While the show just premiered on the 17th of November, I really can't see a better way to spend a Sunday evening, so I'll definitely be giving it a look/see.
In the meantime, I thought it would be best for us to explore the program a little closer together. So I have put together another list, this one about 'Unpolished', that pinpoints ten things we didn't know about the show. Whether it touches base on the plot line, the characters, or the central focus of different episodes, it should familiarize us with enough with the show that by the time we are able to tune in we won't be like blind people wandering around in a dark room. Give this a good read, and see if TLC's 'Unpolished' doesn't sound as fun to you as it does to me, for a reality show, at least.
1. All In the Family
The girls may technically be in charge of the salon, but their mother Jennifer does handle some of the management aspects, and their father, Big Mike, likes to drop in and join in the organized chaos from time to time. Their grandmother, Foxy (which is a name for a grandmother that I just adore) is a hairstylist with more experience that you can shake a stick at, and she has the off-beat, loud personality to match. It's a good things this family adores each other so much, because they might otherwise get on each others' nerves to the point that it would be irrevocable.
2. More About the Martones
The 'larger than life' Martone family originate from Long Island, and will likely call it home the rest of their lives. The family seems like a typical Italian clan…loud, a bit high strung, and tight-knit; the truth is that they are all those things. Grandmother Foxy has been a hair stylist all her life, so she fits right in at her granddaughters' place of business. I have to wonder if she will give much business advice, but mostly if the girls will heed it. The girls' mother seems to be the organizer, the glue that holds things together, which makes her perfect for management. Big Mike seems to make appearances, well, more out of obligation as a family member than anything, but perhaps that will change. The storefront for Salon Martone is a new one to the business, as they used to work out of their home. It should also be mentioned that the girls have served the likes of Jada Pinkett Smith, Kate Hudson, and more, so it's no wonder they are climbing the ladder of success. The bottom line is this: While some of the interactions between these family members may seem like overlapping, and somewhat humorous, madness to viewers, this family is both perfect for each other and for the salon…enough said.
3. Lexi Has A Favorite TV Character
Well, we could dive right in and tell you the answer, but we'll hold out and give you clues instead. Clue 1: She is somewhat obsessed with witches, and adds 'getting her witch powers' onto her bucket list. Clue 2: She has made up her own holiday: Witchmass. Clue 3: She loves all things 'creepy, kooky, mysterious, and spooky'. Now, if you take these clues and add them to her go-to look and wardrobe, who do you come up with? No, not Morticia! Lexi's favorite television character is none other than Wednesday Addams!
4. Something About Bria
Lexi's sister Bria is co-owner of Salon Martone, and it seems she is more than just another pretty face. In fact, Bria has the unique ability to take the most unusual hairstyle requests and bring them to life in a manner that results in the style being better than the customer could have ever dreamed up themselves. Her skill has earned her the nickname 'Bria the Diva, and she even calls her bedroom the 'Diva Boutique'.
5. One Foxy Grandma
Yes, you are reading right. The grandmother on 'Unpolished' is called Foxy, though that is not her real name. She is referred to as 'Foxy' because, well, the family says she's foxy, and we would have to agree. She is also very skilled with hair, having been a beautician herself for most of her life: 40 years to be exact. While tracking down her real name has proven to be something of a chore (if not an impossibility) we will give you an update as soon as we do.
6. Matronly (?) Jennifer
Lexi says that her mother, Jennifer, is the 'mom of the whole salon'. She is pretty much the first face customers see, as she does the greeting and sees to it that everyone is comfortable and has what they need. She even gives tiaras to the kids and doles out plenty of kisses and hugs. On the other side of the same coin, Jennifer thinks that her daughters are too young to own and operate their business but she is very proud of all they have achieved. Her presence makes the salon a fun place to be.
7. What About 'Big Mike'?
They always say that father knows best, but does this apply to the father on 'Unpolished', Big Mike? While he is technically part of the family, and therefore part of the cast, his appearances in the salon are fewer and farther between that those of the others. But being surrounded by women probably doesn't give him much room to speak his mind. Overall, daddy dear seems like more of a silent partner than a main character, but it suits him perfectly. He seems contented to blend in with the wallpaper most of the time.
8. The Boyz
While Lexi and Bria may appear to be too busy to nurture their love lives much, they do have boyfriends, and the boys will also contribute something to the reality series. Lexi's boyfriend is Joe Fraumeni, who also hails from Long Island, though it is unclear what he does for a living. Matt Mancuso is Bria's sidekick. He is the father of two boys from a prior relationship, which Bria seems to have taken to easily. Lexi, however, doesn't like it a bit, mostly due to the fact that the boys are the result of a relationship 'break' that Bria and Matt had taken, according to the New York Post.
9. Sisters May Spar
Viewers of 'Unpolished' may get the impression now and again that Lexi and Bria don't get along. They should take all that in stride; after all, it is entertainment, and reality entertainment at that. With that being said, if one pays attention, they can see the exchanges of affection that silently take place during the small spats on screen. We all know that sisters will spar, but all in all, sisters usually always care deeply for each other.
10. So, Yay, or Nay?
With so many reality shows being mostly staged and containing a lot of scripting, it can be difficult to believe they are truly based in 'reality'. However, the family tells Newsday that the show is, indeed, real, contrary to popular opinion. Sure, there may be times when things seem a bit robotic, but what can we expect? Not everyone's life is of entertainment quality on a consistent day-to-day basis. So, while the family insists it is true reality, the bottom line is something viewers will have to judge for themselves in the end.
There's the gist of it. 'Unpolished' promises to make us grin, if nothing else. For those who are fans of the reality genre, this should be right up your alley. For the rest, well, you may be pleasantly entertained by this clan on a day when presidential messages interrupt your regularly scheduled programming. Check it out on TLC and see what you think. We believe you'll be surprised, at the very least!