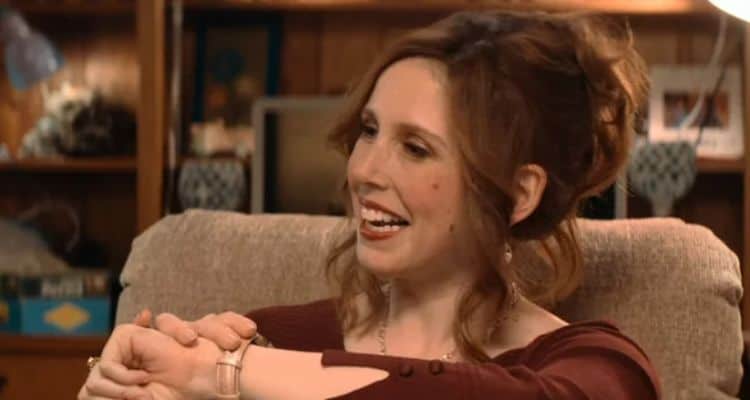 If most people could describe Vanessa Bayer in one word, they'd probably say hilarious. The talented actress/comedian has built her entire career on making people laugh, so it's safe so say she's gotten pretty good at it. Although she's done lots of cool things over the years, many people will remember her best for being a cast member on Saturday Night Live from 2010 to 2017. Since leaving the show, things haven't slowed down for Vanessa. She's made appearances on some pretty popular series including Will and Grace and Brooklyn Nine-Nine. On top of that, she has a couple of projects in the pipeline. Keep reading to learn 10 things you didn't know about Vanessa Bayer.
1. She's From Ohio
Vanessa was born and raised in a suburb of Cleveland called Orange. She comes from a Jewish family and her faith has played a major role in her life. It appears that she still practices Judaism. It's unclear what her parents did for work, but from what we know neither of them had any connections to the entertainment industry.
2. She Isn't The Only Creative Person In Her Family
Vanessa's parents may not have been entertainers, but somehow both she and her brother, Jonah, developed an interest in performing. Jonah is a music journalist and he is also a member of the band United Nations which has been together since 2005. The group has released two albums and two EPs.
3. She's A Cancer Survivor
When Vanessa was 15, she was diagnosed with acute lymphoblastic leukemia. While battling the disease, she relied on comedy to help her get through the difficult times. Since overcoming the illness, Vanessa has become passionate about raising awareness. She wrote a children's book called How Do You Care for a Very Sick Bear? to help educate children who have friends with serious illnesses.
4. She's Worked With Drake
Over the course of her career, Vanessa has gotten the chance to work with some very big names, and one of them is the superstar rapper, Drake. In 2014, Drake appeared on Saturday Night Live as a guest on one of Vanessa's skits called "Sound Advice".
5. She Studied At UPENN
After high school, Vanessa decided to follow the traditional path and head to a four-year college. She enrolled at the University of Pennsylvania where she studied French and communication. She graduated with her bachelor's degree in 2004. While there, she joined the school's all-women comedy troupe, Bloomers.
6. She's A Writer And Producer
Most people are familiar with seeing Vanessa in front of the camera, but they may not realize that she has also worked behind it. She made her debut as a writer in 2014 with a TV series called Above Average Presents. She has written for a couple of other TV shows since. Vanessa will also be a writer and producer for the upcoming series I Love This for You.
7. She Left SNL For A Very Simple Reason
When Vanessa decided to leave Saturday Night Live after seven years, a lot of people were wondering why. However, the reason was as simple as they come. She told The Hollywood Reporter, "It felt like it was time for me. I had seven seasons and just felt like it was time for someone else to do that job."
8. She Likes To Meditate
Even though Vanessa feels fortunate to be able to do something she loves for a living, she also needs time to decompress. Meditation is one of her favorite ways to do that. During an interview with  The New York Times, Vanessa said, "I usually meditate twice a day, Transcendental Meditation. For some reason, I always forget to meditate on Sunday, because it's such a weird day, and I'll remember at 5 and meditate for 20 minutes. And it's great, because I'll feel like I'm getting something done. Even though I am sitting on the couch."
9. She Was Nominated For An Emmy
Being an entertainer can be a thankless job, so it's always nice to be acknowledged for working hard and being talented. The best acknowledgement tends to come in the form of an award. Although Vanessa hasn't won any major awards just yet, she was nominated for a Primetime Emmy in 2017 for Outstanding Supporting Actress in a Comedy Series.
10. She's A General Hospital Fan
Soap operas aren't just something your grandmother likes to watch. Apparently, Vanessa is a fan, too. While talking to The New York Times, Vanessa said, "I also weirdly watch "General Hospital." I used to watch it and then I stopped and now I've started watching it again. They have a lot of supernatural stuff. I truly love it, but the level of believability is very low. It's very refreshing."