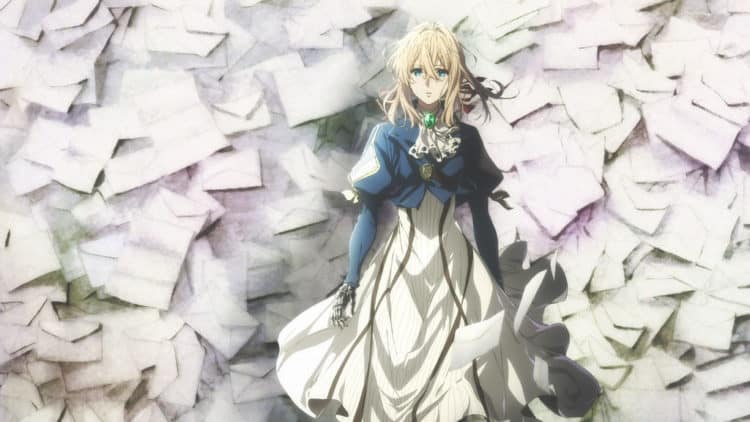 Are you familiar with an anime series call Violet Evergarden? Much of it probably depends on your personal preferences, but also where you live. This is an especially popular volume of light novels as well as additional adaptations for other media formats in Japan. Slowly but surely, it's gaining a similar amount of popularity in other parts of the world. Many people have started reading the novels and some are dedicated followers that have seen virtually everything related to the franchise. Below are 10 things that you might not know about this interesting story that involves the main character, Violet Evergarden, who was a soldier during the war and is now attempting to redefine her life now that the war is over and she is no longer required to fight. This is definitely a story that resonates with a lot of people and that might very well be the reason that it's become so popular in such a short amount of time.
1. It was first published in 2015
The first book was published in 2015, which is quite remarkable when you stop to think about it. The fact that it has gained so much popularity in only three years is nothing short of astounding. It serves as a testament to the quality of the story, not to mention the ability of others to identify with the main character as she struggles with different challenges on a daily basis.
2. The story was adapted into an anime series
As is the case with a lot of popular graphic novels, the story was quickly adapted into a full-fledged anime series. So far, there's only been one season of the series but it proved to be a popular one. As a matter of fact, many fans have been requesting additional episodes for quite some time now.
3. There was also a special standalone television feature
At one point, a project was completed that you might consider similar to a television special. It wasn't really a full-fledged movie but it didn't go with the series, either. As a result, it was designed to stand on its own and was released for television. Longer than a regular episode but shorter than a motion picture length film, it was designed to bridge the gap between some of the storytelling with regard to the novels and the series.
4. A film is on the way
Currently, a full-length motion picture is in the works. An exact release date hasn't been announced yet, but it looks like it will be released sometime in 2019. Fans are excited but they're also wondering exactly what the story will entail. For the most part, the studio has decided to keep things pretty quiet so it's hard to say exactly where the story will take those who have been following it. However, it does promise to be an adventure.
5. It all started with a contest
It might be hard to believe, but this series of books actually came into existence because of a contest. This one won the grand prize and it didn't take long after that for things to start moving at a very rapid pace.
6. The very same company that presented the award ended up publishing the books
That contest was held by Kyoto Animation. Once the winner was announced, it didn't take more than a couple of months to get the first book released and after that, it was almost guaranteed that a series would come right on its heels. Since then, several more books have been released and it looks like the franchise is in good hands.
7. Currently, there are three volumes novels
As a matter of fact, no less than three volumes of novels have been released to date. This is nowhere near the number of novels that most graphic novel authors end up releasing, so fans are hoping that this series will live on for quite a long time.
8. The series adaptation consisted of 13 episodes
If you followed the series, you probably already know that there were several episodes, 13 to be exact. However, not everyone has had the opportunity to see the series for themselves so if you are trying to find it, now you know how many episodes you should be looking for.
9. If possible that there might be a second season at some point in the future
While nothing definite has been said about a potential for a second season, there is always an opportunity for that to be completed later on in the future. Right now, the focus is on creating the full length film and developing an additional fan base.
10. More novels are forthcoming
At the same time, more novels are being written. Currently, the number of novels that are ultimately planned is still very fluid. As long as the series remains popular, there's no reason to think that any plans to end the series would be coming in the near future.