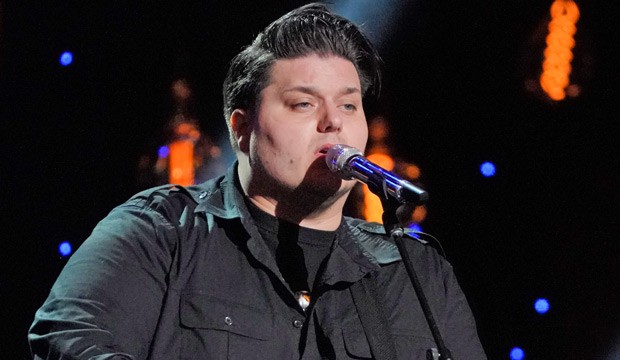 Since he first took to the American Idol stage with his emotional rendition of George Ezra's Blame it on Me, Wade Cota has gone from strength to strength. His raspy, heart-wrenching vocals have won him the praise of Idol's judging panel, and a firm place in the nation's hearts. He may have lost out on a place in the season finale, but it's unlikely this will be the last we'll be seeing (or hearing) of the talented singer. Of course, no one is guaranteed success, but if the reception to Cota's run of outstanding performances on this season's Idol are anything to go by, the future's looking very bright indeed for this Arizona native. Get to know him better with these 10 little known facts about the rising star.
1. He had a traumatic childhood
Cota's brave revelation that he took to songwriting as a way of coping with the memories of a traumatic childhood earned him a firm place in America's heart. "My real dad — or, I'm going to restart that — my biological father, he was the devil," he's revealed. Cota has since shared how his father's physically abusive behavior left him with a permanent scar on his face and a crack in his skull. The young Cota wasn't the only victim of his father's violence: both his mother and siblings were equally targeted, with his mother not even allowed to leave the house. Despite it all, Cota wouldn't change his past, telling USA Today "I wouldn't change anything. Nobody without a broken heart can write a song."
2. He's close to his mom
Despite being estranged from his father, Cota remains very close to his mom, Teri. After years of abuse at the hands of her husband, Teri eventually managed to engineer her family's escape, spending the subsequent years working hard to make ends meet as a single parent. "We don't have a lot, but we love each other so much," Cota has said of their relationship. "I want to be remembered for something, and it might as well be making my mom proud."
3. He's been in 2 short films
Cota is clearly a talented singer, but what you may not know is that he's an equally gifted actor. According to IMDB, Cota has appeared in 2 short films: Last Christmas! (2016), a comedy directed by Jesse Lobell and featuring Sam Allen and Eric Hula, and Losing It (2015), another comedy directed by Jesse Lobell that follows the story of Grant (played by Cota) as he struggles to deal with the weight gain that follows his girlfriend's rejection of his marriage proposal.
4. He won a standing ovation from the judges
Cota has clearly impressed American Idol's judging panel as much as he's impressed its audience. The panel have been cheering the talented singer on ever since he stunned them during his first audition with a heart-wrenching cover of George Ezra's Blame It On Me. Since that first day, he's not stopped impressing…. during his rendition of Ray LaMontagne's Trouble during the April 14th episode, the judges were so moved they rewarded him with a standing ovation.
5. He has one of the most unique voices Katy Perry has heard
Cota has not only won a standing ovation from the judge's, he won an almost constant stream of approval from them. Katy Perry is clearly enamored with his talents, describing him as "really special," before adding "You have one of the most unique voices I've ever heard in my life – one of the most unique voices we've ever heard in our lives." Luke Bryan has been equally impressed, telling the blushing Cota, "You have your own thing like Johnny Cash does. I hear your voice, and I hear your voice in movie soundtracks." Lionel Richie added to the compliments with "In this business, we look for the character and you brought me a character. And it's an unusual character because it sounds like you."
6. Before Idol, he was a front-man with Sugar Water
It'll be no surprise for Idol viewers to learn that Cota has been honing his skills for quite some time. Before trying his luck on Idol, Cota was practicing his skills as a front- man with the band Sugar Water. The band, who performed across numerous venues in Arizona, won a loyal fan-base thanks to their dynamic renderings of Cota's original material, including Stay and Fallen Place.
7. His vocal style comes from singing metal music
Cota's unique vocal style has won him legions of loyal fans across America. However, there are some who question how such a raspy, world- weary voice can come out of the mouth of someone so young. The answer, it seems, lies in his years of singing as part of a heavy metal lineup. "I sang metal music,' he's revealed to Billboard. "I screamed for ten years until I figured out how I could sing and now people ask me, 'How do you make that sound come out of your mouth?' and I think it's because from such a young age, I was ripping out my throat. So now when I sing, it comes out with this grit like sandpaper."
8. It's not his first time auditioning for Idol
While this season is the first-time viewers have had the pleasure of hearing Cota, its not the first time he's tried out for Idol. Cota first auditioned for the show 9 years ago, just after he graduated from high school. That time around, Cota didn't even make it as far as the audition chamber, getting a firm no from producers during the initial tryouts. At the time, Cota was disappointed, but he's not let the rejection hold him back. "I was heartbroken, because I'd driven with my aunt and uncle and with my girlfriend at the time all the way to San Diego," Cota has shared. "I didn't want to do anything cool afterward because I was so bummed. But I'm here now and I'm not going to stop."
9. He tried out for The Voice
Cota is clearly determined to make it anyway he can, a resolve that saw him try his luck on The Voice during Idol's 2-year absence from our screens. Cota proved more successful on The Voice than he'd been during his first audition on Idol, and was on the verge of appearing in front of the judges when it was announced that all the spots had been filled. At the time, he was disappointed, but in retrospect, Cota is glad he didn't get any further, revealing "I'm so happy that it did not work out, because when I saw that American Idol was starting up again and I saw the talent that year and I thought, 'That's what I'm going to do. That's the one."
10. His first performance was at the age of 12
Cota was only 12 when he first performed in front of a live audience. The performance took place at Way Out West Metal Fest, a music festival organized by his mother, Teri. Cota took to the stage alongside his band, Koama (short for Korean American Metal Assault). The performance was, in Cota's own words, "comically bad", but it gave him a taste for being on stage that he's yet to lose. "That feeling of being up there is nothing that I had ever experienced and I got addicted to it," he shared with Billboard.