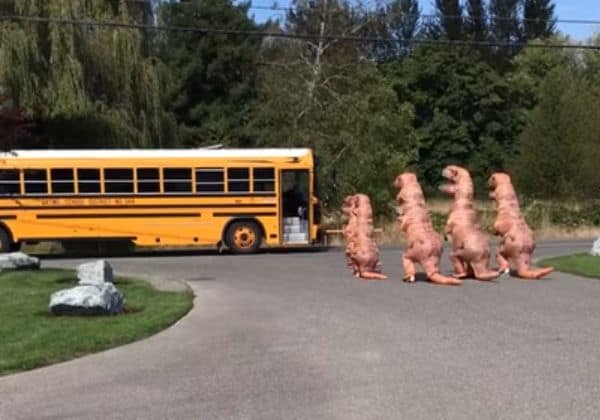 This is a fun family. Not a lot of families would dress up like this to welcome a little girl home and despite seeming like it might be a Halloween thing the truth is that this family decided to dress up just on a lark. Why anyone would have that many T-Rex costumes lying around is kind of strange but to each their own. I kind of wonder just what the bus driver thought about when they rolled up on this scene. Something tells me that seeing a T-Rex family waiting patiently at the end of the driveway could have made a lot of people's day simply for the novelty of it.
The little girl that got off the bus certainly seemed to be enjoying it as she ran past, a big grin plastered on her face. That's the mark of a very fun and close family that they would do something like this out of the blue to surprise one of their own. Not enough families do things like this anymore it seems, as many families tend to be on the go more often than not and are so obsessed with work and getting as much out of life as they can that they forget to just have fun and enjoy life now and again.
There's nothing wrong with working hard, but remembering to play hard and just cut loose now and again with the silliness is part of what keeps people young and also keeps them from taking everything so seriously that they forget what it's like to really live. So what if some people don't seem to get it? So what if some folks think it's a waste of time? That's their problem. Each person runs their family the way they want, but with all families it's necessary at times to just be silly or loosen up and kick back for some good old-fashioned fun. And only a few things in this world are older than a T-Rex. Okay, lame joke, but it fits the point that's being made to just loosen up and relax a bit, even if the silly side is undeniably corny.
To be honest I think I would have wondered what was wrong with my parents if they'd have done this when I got off the bus, but then again my bus stop was a good quarter mile from my home and I caught the bus at six in the morning and didn't get back until nearly three-thirty in the afternoon. But still, I think that I would have been touched to know that my family was willing to be silly for me in this manner. Thankfully they were silly in a lot of other ways, and that made life worth the hard work it takes to get anywhere.
"My family and I decided to dress up in costumes as our oldest daughter came home from school. We encourage our children to work hard, play hard, and not take life too seriously as shown clearly in this video."
This is how we got Brooklynn from the bus today!!! Love our family pick up!! I'm one excited mommy T-Rex!!For licensing and usage, contact: licensing@viralhog.com

Posted by Kimberly White on Friday, September 22, 2017