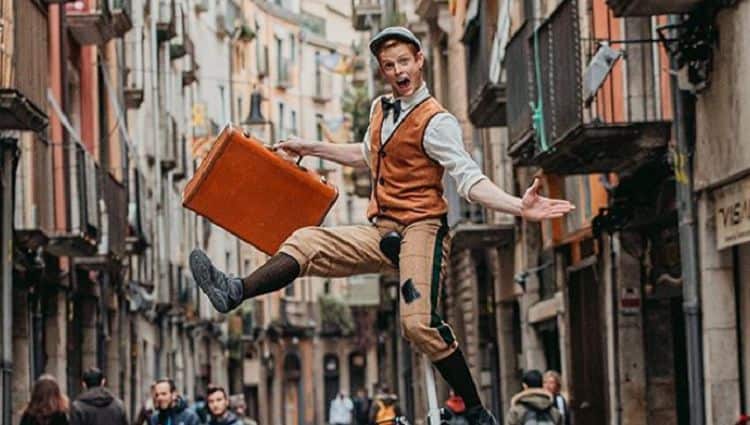 One of the best things about America's Got Talent, is that you never know what you're doing to get. Unlike other competition shows, contests on AGT can literally perform any thing. With that being said, Wesley Williams has one of the most unique skill sets we've seen in a while. The 22-year-old unicyclist has some serious skills and he's more than happy to share the world. Not only has he left the judges stunned, but the viewers are also very impressed by what he's able to do. If Wesley is able to go all the way, he'll be the first contestant who performs dangerous acts to win the competition. At this point, even if he doesn't win, he's already put himself in a position to get some good opportunities down the line. Continue reading for 10 things you didn't know about Wesley Williams.
1. He's Competed Britain's Got Talent Too
Wesley Williams is coming to take over the world with his unicycle skills – literally. Not only is he competing on America's Got Talent but he's also been a contestant on Britain's Got Talent as well. Wesley's skills are so on point that he continues to wow the judges on both shows.
2.  He's Been Riding Unicycles Since He Was A Kid
While most kids are busy trying to learn how to ride a bike without training wheels, Wesley Williams was already focused on a much bigger challenge. He received his first unicycle as a Christmas gift when he was just 6-years-old. He immediately took an interest in his new 'toy' and has been riding ever since.
3. He's From Florida
His ability to ride a unicycle has allowed Wesley to see some very cool places, but he could never forget his home. Wesley was born and raised in south Florida. Although it appears that his family still lives in Florida, it's unclear if Wesley still lives there as well.
4. He's Been On Other Shows
Wesley isn't exactly a TV star, but AGT isn't the first time Wesley has decided to share his talents on the screen. He's actually made quite a few TV appearances over the years. Some of the shows Wesley has been on include Fox and Friends, The Gong Show, and even Jeopardy.
5. He's Been On AGT Before
Wesley certainly isn't a stranger to what it's like to compete on America's Got Talent. The first time he appeared on the show back in 2015, he was just a teenager. At the time, he was competing as part of a duo called The One Wheel Wonders. His former partner's name was Ella Warner from Vermont. There's no information on why the pair decided to go their separate ways.
6. He's In The Circus
Since learning how to ride a unicycle, Wesley has been passionate about wanting to join the circus. His dream has officially come true. For years, he has performed with a non-profit circus organization called Circus Smirkus. According to the website, the organization's mission is "to promote the skills, culture and traditions of the traveling circus, and to inspire youth to engage in life-changing adventures in the circus arts."
7. He Sells Merchandise
If you're a fan of Wesley's work and are looking for ways to show your support, the good news is that he sells merchandise. There is a small eCommerce store on his website that offers t-shirts and autographed postcards. Unfortunately though, he doesn't sell unicycles.
8. He's Not Very Active On Social Media
Ever since his performance on AGT, there have problem been lots of people trying to track Wesley down on social media. Sadly he doesn't seem to be very active on any platforms. He does have a Facebook page, he didn't start posting regularly until the show aired.
9. He's Performed All Over The World
Wesley loves to unicycle so much that he would probably do it even if it didn't afford him any opportunities. Luckily for him, though, it does.  unicycle skills have allowed him to see the world. Throughout the years, Wesley has traveled far and wide to perform on his unicycle. Some of the cities he's been to include Barcelona, Moscow, and London.
10. His Family Supports His Dreams
When you're working hard to follow your passion, it always helps to have people on your side who believe in you. Wesley is lucky to have a very good relationship with his family who has been very supportive of his career as a unicyclist from the very beginning. Even when he said he wanted to join the circus, his mom was happy to believe in her son's dream.