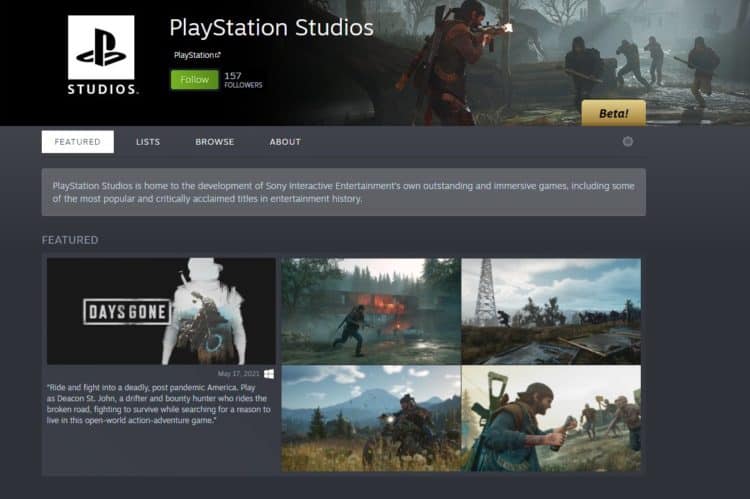 PlayStation Studios has recently released(?) their own Steam creator page (do you release a creator page? I don't know, but they have [insert correct verb here] their own Steam creator page)  which has led many to believe that Sony is diving headfirst into delivering the PlayStation experience onto PC more and more. If this is the case, then that could be a huge development in the console war between Xbox, PlayStation, and PC. So, if PlayStation is, in fact, leaning towards bringing more first-person PlayStation titles to PC, what could that mean for the future of PlayStation? Would it make consoles like the PS5 obsolete? Would Sony lean more towards software development in the future? Let's talk about it, shall we?
Future of PlayStation
So, to answer some of the above questions: no, I don't think that Sony's (possible) decision to bring more first party PlayStation exclusives to PC would end up making the PS5 obsolete, nor do I think that Sony would opt to abandon development of future consoles. PlayStation consoles will never stop being made, regardless of how far companies like Microsoft, Google, and even Amazon, push in the direction of cloud-based gaming; it's just not going to happen. Even with Xbox, consoles are still going to be produced, they're still going to be bought, and people will always continue to play on consoles. Why? Because they're easily accessible (for the most part, aside from this latest next-gen fiasco) and they're what most people are comfortable playing on; it's what most players have grown up with. I grew up on an OG Xbox and a PS3, until the Xbox One came out and then my brother and I were able to work up the money to buy one of our own. The console experience just isn't going to go away anytime soon, even if PlayStation and Xbox exclusives make their way onto other consoles, specifically PC.
PlayStation Games on PC
Now, while consoles will not be going anywhere for the time being, I do think that the era of console exclusives is slowly coming to an end. With major titles from Xbox like Halo, Gears of War, Forza, among others coming to PC whether it's on the Microsoft Store via the Xbox Play Anywhere program, Game Pass for PC, or even Steam, we've seen a major shift in Microsoft's focus of games and hardware. With PlayStation titles like Days Gone, Horizon Zero Dawn, Predator: Hunting Grounds, and Helldivers Dive Harder Edition, coming to PC via Steam, and MLB The Show coming to Xbox for the first time in the franchise's history with MLB The Show 21, we've seen Sony start to let up with their exclusivity as they've seen players want to be able to play with whoever they want, wherever they want. According to an article written by Megan Farokhmanesh, Sony president and CEO, Jim Ryan, says "We find ourselves now in early 2021 with our development studios and the games that they make in better shape than they've ever been before, particularly from the latter half of the PS4 cycle our studios made some wonderful, great games. There's an opportunity to expose those great games to a wider audience and recognize the economics of game development, which are not always straightforward. The cost of making games goes up with each cycle, as the caliber of the IP has improved." So, it doesn't look like Sony is even close to being finished with porting some PlayStation games over to PC, and with the brand new Steam page made for PlayStation Studios, it looks like they're really just getting started.
PlayStation Studios Steam Page
So, taking a look at the PlayStation Studios Steam page, we see that the bio reads "PlayStation Studios is home to the development of Sony Interactive Entertainment's own outstanding and immersive games, including some of the most popular and critically acclaimed titles in entertainment history." Currently, the page has over 1,100 followers, but what's interesting is it actually lists 41 games under the "My Games" section. What's odd about this is that when you actually go to the section that lists each PlayStation Studios game currently available on Steam, we can only see Predator: Hunting Grounds, Horizon Zero Dawn Complete Edition, Days Gone, and Helldivers Dive Harder Edition, which is quite a few less than 41. Maybe this means that there will be a whole heck of a lot more PlayStation exclusives coming to PC, or maybe it's just a glitch?
Who knows, all I know is that I would love it if we got more PlayStation games on PC; I mean, can you imagine seeing Spider-Man: Miles Morales in a stunning resolution running at some insanely high frame rates? My hopes aren't too high (I'm sure we won't actually see Spider-Man on PC), but I guess we'll just have to wait and see where they go from here.