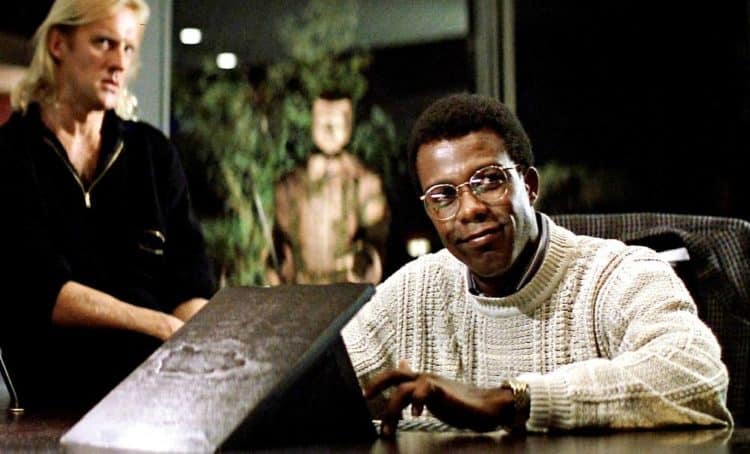 Clarence Gilyard has been in the acting industry since 1982, but lately, you will rarely see him on television or film, although he prides himself as a Hollywood actor. He had even retired from the acting world in 2005 but returned in 2012. Still, his acting days are not behind him for good because he found another way to feed his passion for acting, without necessarily being on the screens. If you were wondering how he can do that, let's tell you more about what informed his decision to take on a passive role in the entertainment industry.
Finding his way into acting
Clarence grew up in the military base since his father was in the U.S. Air Force, and after high school, he also wanted to be like his father. Therefore Clarence joined the U.S. Air Force, but after only one year, he left to join Sterling College. He was a good student, juggling his studies and playing football where he was the wide receiver. Unfortunately, he dropped out and began working. The actor then moved to California, where he continued working for several years before enrolling at California State University in Long Beach, where he majored in acting.
After a year of being in the acting class, Clarence joined a repertory company that performed children's plays during weekends. He, therefore, continued studying acting while performing in elementary schools since, with the company, they would do as much as three shows in a day. His dedication to theater paid off because he landed a role in "Bleacher Bums" in an evening presentation, making him the first black actor to get the cheerleader role in the play. He later had to drop out of school, again and Clarence, as a result, looked for jobs to cater to his needs while still hoping to get his big break on television.
Getting his big break
After trying his luck in the television industry without success, Clarence finally got the big break he had been waiting for through one line in "Different Strokes." He went on to be cast in "Die Hard" and "Top Gun" where he was an anomaly according to Review-Journal. Clarence explained that the roles demanded more of wits than comedy thus the director would always ask him what he would say or do in certain scenarios.
As for taking on comedic roles, Clarence was not built for that, and it had to take the intervention of Andy Griffin to help in the transition. The actor admits he was not funny before meeting Andy, who taught him comic timing by getting Clarence to look at the point of view of the joke. Looking back, he feels lucky to have been chosen to be in "Matlock" because he knew there were other talented guys, but Andy picked him for four seasons. While all these are significant accomplishments, Clarence is best known for playing Jimmy Trivette in "Walker, Texas Ranger."
He almost did not make it into the cast of the cowboy show because, at the time, he was also thinking about selling his own show to CBS and was about to sign the contract. However, his agent convinced him to first consider a part in the show that Chuck Norris was selling, and he did. Clarence knew he would get the role of Jimmy because of all the people who auditioned, he noticed that he fit the character perfectly. He was a cowboy then, a martial artist, and had even played college football; thus, Clarence had no problem passing the physicality part of it. Besides, the fact that he would be getting 13 checks from the 13-episode show compared to one check from his pending deal was enough to entice him to audition for Jimmy Trivette. Clarence had also been on "Matlock" for four years and felt it was time to grow as a physical actor.
Leaving it all behind to be a college professor
For someone who had spent his entire youth playing Jimmy Trivette since Walker Texas Ranger had filmed 201 episodes from 1993 to 2001, you would wonder why he would not want to continue doing what he knew best, acting. He even said that he had retired from acting in 2005, but it was not because he could not get any more roles; it was more of a personal decision. Clarence got married to his first wife, Catherine, and had two children while he was still playing Jimmy.
He noticed that his children did not get to spend quality time with him, and he was not ready to repeat that mistake with his second wife, Elena, with whom he had three children. The actor, therefore, decided to put his family first lest the marriage ended up in divorce again. Such a commitment to family life even saw him only have a cameo appearance in "Walker, Texas Ranger: Trial by Fire" because filming conflicted with a family vacation he had planned.
Consequently, he went back to school and finally graduated with his master's degree in theater. His decision to get professional training worked out for the best because the University of Nevada, Las Vegas, saw his skills as an asset thus offered him a job to teach acting. The pay must have been good since he described the offer as one he could not refuse, but it could also be because he is passionate about teaching. Clarence said he is wired to teach and likes imparting his knowledge to the millennials because he gets to siphon off their energy.
He is also a consultant of the U.S. Catholic Bishops Communication Committee
Clarence is now a staunch Catholic who converted to Catholicism 25 years ago, according to Catholic News Agency. Just like many actors, Clarence had wasted his life on rock and roll, sex and drugs and he hit rock bottom. He knew it was time to change and started seeing therapists and undertaking the 12-step recovery program. Clarence met a man who invited him to him for Mass the following Sunday, and when Clarence went on his knees during the consecration of the Eucharist, he felt a change come upon him. He then asked to see the priest when the Mass ended, resulting in him join in the Rite of Christian Initiation of Adults (RCIA). Clarence became a Catholic and went ahead to work as a consultant for his local bishop's conference.
The actor later met with the president of the Holy Cross Ministries, an organization that supports low-income families by providing them with legal immigration representation, healthcare, and education. The president then asked Clarence to be on the board, where he is charged with facilitating the English-speaking venues for World Youth Day that is held every 3-4 years.