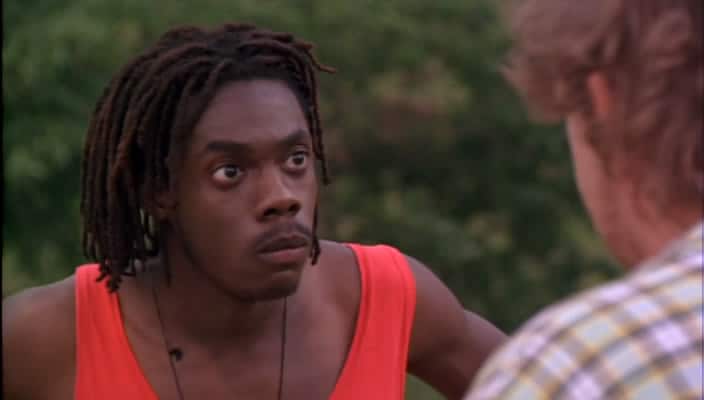 Doug E. Doug is an American actor who is best known for his role as Griffin Vesy on "Cosby." He also played the part of Sanka Coffie in the hit film "Cool Runnings." Whatever happened to him since these days? We took a look at where he's been and what he's been up to most recently and here is what we learned.
His early years
Doug E. Doug was born in Brooklyn, New York on January 7, 1970. He turned 50 years old early in 2020. His father is Jamaican and his mother is African-American. He began his career at a young age, performing stand-up comic work at the Apollo Theater when he was just 17 years old. Within just three years of making his debut on the live stage as a stand-up, Doug would find himself on screen.
His early career in film and television
Doug was already seasoned when it came to working on stage in front of live audiences. He became popular but didn't have the exposure that he needed to propel his career further. At the age of 20, he landed a minor role in the 1990 film "Mo' Better Blues" as Jimmy the Busboy. This was his debut performance on screen. The following year he was cast in the role of Willie Stevens in the film "Hangin' with the Homeboys." The same year he played the friend of Livin' Large on "Jungle Fever." His acting career began to pick up and in 1992 he appeared as Popsicle in the film "Class Act" in 1992, followed by the role of Trotter in "Dr. Giggles."
His breakthrough role
Douglas Bourne steadily built his reputation in the entertainment industry appearing in several films, but his big break came in 1993. He was cast in the role of Sanka Coffie and he took the lead in the true story of an Olympic bobsled competitor in the film "Cool Runnings." He delivered an excellent performance for which he became well known. This was followed by a recurring role in the television series "Where I Live" as Douglas St. Martin. This was a tremendous year for the young actor who was already off to a good start.
After a gap, he was back
There was a two-year gap in Bourne's acting resume. After his work in 1993, he didn't work on any acting projects until 1995 when he appeared as SP4 Harvey Ashford in "Operation Dumbo Drop." There was another 2-year space in between this and his next project. In 1997 he was given the part of Agent Zeke Kelso in the film "That Darn Cat," followed by a guest appearance in "Oddville, MTV," and an appearance in "Diagnosis Murder as Doug E. Doug" the same year. He did some voice acting as the voice of Turbo the Turtle in the 1998 release of "Rusty A Dog's Tale." He was cast in the role of Griffin Vesey in "Cosby" which ran from 1996 through 2000 and kept him busy enough when he wasn't working on other film or television series sets.
A crazy schedule in 2000
At the turn of the century, Bourne found himself to his armpits in acting gigs. He kicked off the year supplying the voice of Raven in the kids' series "Happily Ever After: Fairy Tales for Every Child." He also appeared in "Everythings's Jake" as a taxi driver and as James in "Citizen James." Doug also provided the voice of Percy Mulch in the series "Little Bill" and appeared in an episode of "Touched by an Angel." Over the next few years, he appeared as Harlan Griffith in the film "Eight Legged Freaks" in 2002, followed by some voice work in "Shark Tale" in 2004 and the following year as the voice of Bernie in "Club Oscar."
His most recent acting work
Most recently, Bourne appeared in several episodes of "Law & Order SVU" from 2004 through 212 as Mr. Wiggins/Rudy Lemcke, with guest appearances in "Blue Bloods," voice work in "In The Future Love Will Also" and "Above Average Presents" in 2016. He also appeared as Marlon in "An Act of War" in 2015, a twin in "The Wannabe" and as Madou Dosama in "2nd Life." He made an appearance in "Brown Nation" in 2016, and his most recent project was as Terrence Clash in the 2017 film "Lil Girlgone." He has a total of 42 credits in his acting portfolio.
He is also a writer, director and producer
Douglas Bourne has produced 3 projects including "Slap the Donkey" in 2009, "Citizen James" in 2000, and "Where I Live," in 1993. He directed "Lil Girlgone" in 2017 and "Citizen James" in 2000. He wrote the screenplay for "Lil Girlgone" "Slap the Donkey," "Citizen James" and "The New Music Report."
He is an author
Most recently, actor and comedian Doug E. Doug has been busy working on his first novel. He wrote it about the Hip-Hop generation and their unique experiences. He titled his novel "the Fall of 1987." The book went on sale on Amazon.com in early January of 2020. Although he has written several screenplays this is his very first novel.
Final thoughts
Douglas Bourne, aka Doug E. Doug, is alive and well. He hasn't done a lot of acting in recent years but he has remained active in his professional career focusing on the writing aspect of it. He has a career that spans 30 years and it has been a good one. It appears he is entering into a new phase of his professional life and even if you don't see him on the screen, know that he is staying busy as an entertainer and he is still very active. As things return to normal in the nation and throughout the world, we expect to hear a lot more from Doug E. Doug.