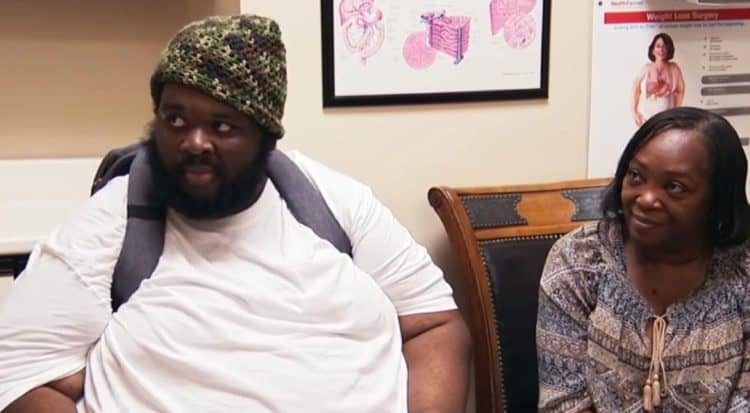 For nearly a decade, the TLC series My 600-lb Life has told dozens of stories of people who are struggling with their weight. Initially, the show was meant to be a five part mini-series, but it became so popular that it was brought on as a full series. While some people find it hard to believe that anyone could ever weight 600 pounds, the show provides some interesting insight as to how many people find themselves dealing with morbid obesity. Over the years, there have been a few stories that were especially heart warming and Thedrick Barnes's was one of them.
Like many people who have been featured on the show, Thedrick found extreme comfort in food. His weight had gotten to a point where he could barely leave the house. The only time he ventured outside was to walk to the ice cream truck. At one point, Thedrick reached nearly 750 pounds. His weight became a life or death situation which is what caused him to seek the help of Dr. Nowzaradan. After losing enough weight to be approved for weight loss surgery, Thedrick was able to undergo the procedure.
Unfortunately, episodes of My 600-lb Life don't spend much time with the person after they are approved for the procedure so naturally lots of people have wondered how things have been going for Thedrick. We're happy to say we have some answers. Keep reading to learn what happened to Thedrick Barnes from My 600-lb Life.
What Is Thedrick Up To Now?
Sadly, Thedrick isn't the most active social media user so he hasn't provided any thorough updates. Additionally, he had to sign an NDA with the show that prevented him from revealing too much. In fact, it looks like he wasn't aware of the fact that he wasn't allowed to post updates. In a recent Instagram story, Thedrick said, "I'm sorry the film company said I can't post updates I'm sorry I thought I could I'm sorry".
With that being said, the few recent pictures that he has posted appear to show his face looking much thinner, but it's not entirely clear whether or not he has undergone surgery. At the time time, he does seem to be in good spirits overall. Still, losing weight isn't easy – especially when your goal is to drop hundreds of pounds.
Financial Hardships
In a tweet from January 2021, Thedrick said, "With no car catching ubers and lyft too and from home i have a dr.s appointment coming up on the 01/20/21 and dont have the resources to get there and what scared me since being here my momma got lose the other day so so i come to u open heart every little bit helps Thanks Theo." He also added that he didn't receive any money for being on My 600-lb Life which means that he has to foot his own bill for any medical expenses. One of Thedrick's followers challenged his statement that he wasn't paid, but there's a very good chance he's telling the truth.
According to The List, people featured on My 600-lb Life are only paid around $1,500 to be on the show. When you think about how much the show makes from these episodes and the fact that filming can take about a year, $1,500 starts to sound like chump change. On top of that, several former cast mates have sued the show's production company alleging that their medical costs were not covered.
Will The Show Do A Full Update On Him?
Even though My 600-lb Life doesn't go into much detail about cast members' entire surgery journey, there are sometimes follow-up episodes. A spin-off series called My 600-lb Life: Where Are They Now? debuted in 2015 as a way to provide updates on former cast members.
It's unclear how people are chosen for these episodes since it doesn't appear that everyone gets one. Since Thedrick and his story were so popular among viewers, there is a chance we could see him on TV again. If the rest of his journey does end up getting featured, there will be a lot of people rooting for a positive outcome.
The Future Of My 600-lb Life
My 600-lb Life is getting ready to enter its 9th season and it doesn't look like the show has any plans on slowing down. While many episodes are truly heartbreaking, it's also heartwarming to see people who are working hard to reach their goals and improve their quality of life. The 9th season is set to air on TLC on January 27, 2021.