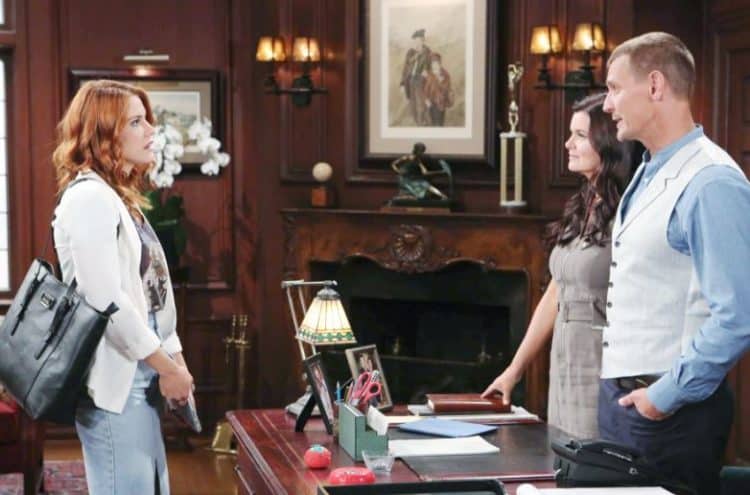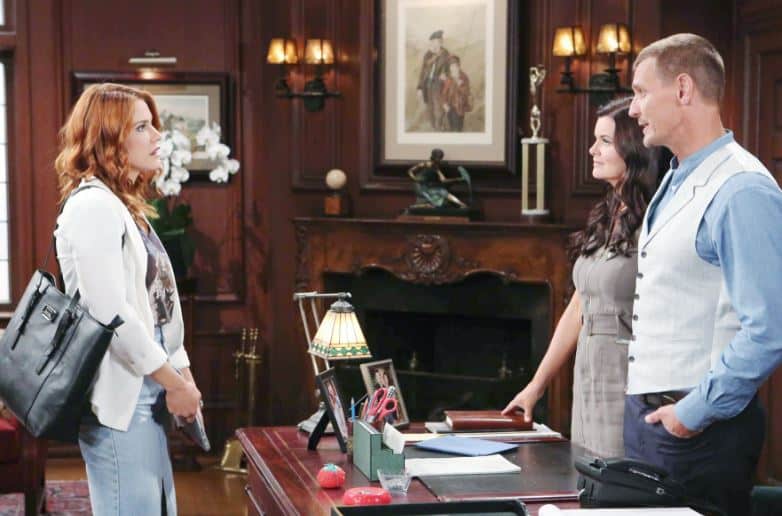 The Bold and the Beautiful was nothing if not dramatic last week. Before you start a new week, let's recap what went down, how it all went down, and what might go down. For one, we all saw the shocking moment in which Liam found out that Hope is pregnant with his child so soon after he and his ex-wife got back together to create a family with their own newborn daughter. He's in shock. We are in shock. Steffy is going to be really shocked. And then there is Ridge and Brooke. They spent the entire week disagreeing about their kids – again – as if it's any of their business. Of course, we side with Ridge on this one. He's essentially looking to get his wife to stay out of their kids' relationships, and he's asking her to not make this about her.
For one, we know that Hope wants to have Liam for herself. But she backed off when she realized that Liam and Steffy do need to get their baby's needs put first. And Brooke is all like, "No way, girl. You go after him. You get him. You don't worry about that stuff. You don't need to worry about the fact that he's a man marrying another woman or that he just had a baby with her." She doesn't seem to mind allowing people to steal men from women and all that. And Ridge is not amused. Not that he's immune to that – at all – but this is his daughter. This is one of the biggest messes we've seen in a while, and it's all about timing for these couples. Steffy should have married Liam sooner so he's not nearly as free to just leave her. We do, however, think that Bill is going to love this.
What's Happening on the Bold and the Beautiful
Happy #InternationalKissingDay! See which stars we caught locking lips on the CBS Kiss Cam. 😘 pic.twitter.com/oMPCHZlgCl

— CBS (@CBS) July 6, 2018
Who doesn't love a good national holiday? The BB and stars were having a good time making it all happen for the kiss cam in order to spend a little time celebrating one of the most important national holidays of the year – um, is it? – National Kissing Day. We enjoy a good kiss with someone we love, so we also encourage you to go ahead and check out who these stars were caught kissing when it all came down to the wire for them last week. The kiss cam might be the best thing to happen this week.
What's Next on the Bold and the Beautiful
Claws will come out, fur will fly, and you'll ever guess what froze over this week on #BoldandBeautiful pic.twitter.com/7n4upzgWKQ

— Bold & The Beautiful (@BandB_CBS) July 8, 2018
Things are happening fast around here. Liam has to eventually tell his fiancé that his ex is pregnant with his second child. And he just had his first a few weeks ago. He has to tell Steffy what is happening, and she's not going to like it. We are also going to see Xander open up to Emma. He's been keeping some secrets, and he has to say something to someone about it. He can't seem to keep things to himself at this point, and he's just over there feeling that she can handle this and keep it to herself. We don't know about that, but we do know that she will find out, probably tell someone else, and thing will very likely explode at some point after that.
Zoe also overhears a conversation. She's going to hear Sally tell Wyatt that Hope gave her a warning. They aren't getting along as Hope is not happy to have her back in her life and back in her business, but she's not really focused on her at the moment. She's got her own life problems right now, and she does need to let go of this whole thing with Sally. We also hear that there will be more to come with this. Sally will work very hard to ensure that Hope is happy with her, and that means she's basically going to work super hard and probably suck up to her a bit. Will it work, or will Hope's current situation prevent anything from really working?
Stay tuned for more The Bold and the Beautiful and be sure to check out TVOvermind daily for the latest The Bold and the Beautiful spoilers, news, and updates.