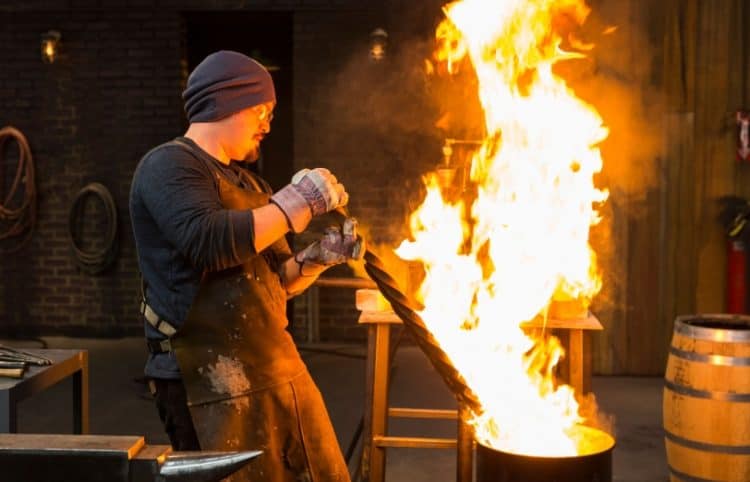 Forge Fans have just enjoyed the first episodes of Season 6 and Forged in Fire has once again showed why it has the stuff that may keep it on the air forever. The Road to Redemption competition literally sizzled with seven smiths working on coal forges outside during Episode 1. Their task was to make throwing knives and every smith knew that one of them would be eliminated at the first inspection and another after their throwing knives were tested. Five would remain to have a chance to go home and build the best chopper in their home forges. One was eliminated, and four had the chance to return to compete in Episode 2. The big payoff would be winning $20,000. That prize would include redemption, because all the smiths competing were returning to The Forge to see if they could do better than their previous times. Not only did the number of competitors increased from previous shows, but the prize money did too. The Forge has the capacity to show more, and more. It's a recipe for longevity.
Because Forged in Fire is a reality show about knives, swords, historic weapons and manly men, it is a geek's favorite place to hang out. There are numerous knowledge bases to explore. There's all that knife forging vocabulary… quench, fullering, cold shuts, and more. There are all those different kinds of knives…cutters, camp knives, Bowie knives, and more. Smiths get to make swords from many world cultures, historic periods, and fantasy weapons from popular TV shows and films. And the manly men who watch get to virtually hang out with the guys while sitting in man caves everywhere. Of course, women watch too, for many of the same reasons, and they do compete…just not as often. There's something new to learn about a whole lot, and that's interesting.
The competition is about crafting fine quality blades, not relationship drama, and smiths represent diverse backgrounds. It's engaging to see civil war reenactors who make weapons for their historic passions. At the same time, a Renaissance Faire performer may be forging weapons so that the most authentic versions will be seen there. Survivalists drawn to making their own blades and martial arts experts drawn to make Asian swords are all thrown into the competitive mix. The Forge draws on these solitary folks to present their forging talents, and plenty of other people who enjoy the same hobbies learn much from watching the competitors.
The Forge can be unexpectedly dangerous, and that's exciting. The smiths work with red hot steel and fiery burning furnaces as camera crews get up close and personal. It takes an enormous amount of concentration to focus on the job at hand and not become distracted or nervous. It's not a place where personal problems matter. What does matter is coming up with the best blade possible, while working in close quarters with others who want to win, too, while the smallest mistake could lead to serious injury.
The Forge has grown so much in popularity that even non-smiths are beginning to see the value and artistry in the process of bladesmithing. The smiths who participate have very different forging talents and experiences and this provides an un-ending flow of unique comparisons as the smiths compete to make some violent weapons capable of killing and saving life. The testing processes add to the euphoria as the master judges whack, slice, hit, and cut their way through animal carcasses, blocks of ice, wood, rope, and you name it. The tests evoke the deepest curiosity because they are not only bizarre but universally appealing in a visceral way. Blade contact with pig torso evokes primordial satisfaction.
The show's producers are keenly aware that many young children view regularly. The show is birthing fledgling blade smiths, and that is both an honor and responsibility. The Forge is recruiting its own future viewers and competitors. It has become its own feeder team for future competitors. Even judge Doug Marcaida is said to have recently learned how to forge himself, even though he is the owner of a product line of truly deadly weapons.
Since viewers get to visit the final round competing smiths in their own home forges there is the chance to see what makes someone want to smith. Some have vast arrays of equipment and large home forges to work in. Others have modest tools and often come up with ways to make blades that are longer or more complicated than they've ever made. Watching them make unorthodox equipment or making seriously costly emergency repairs when things break is compelling. It's well known that many of the smiths are competing to earn their way and the pride that comes with becoming the champion is truly appreciated. It's refreshing to see the real deal for a change.
While The Forge has been the place where four smiths battle it out until the finalist wins based on the superior craftsmanship and functionality of the blade, there are hundreds of possible variations of what they can craft and do to compete and be tested. Changing up the number of competitors is just one example of ways the show will continue to captivate viewers. Add in more knives, more weapons, more tests, different smiths, historical info, and real-life blade masters and there's plenty more interesting stuff to come. That's for certain.