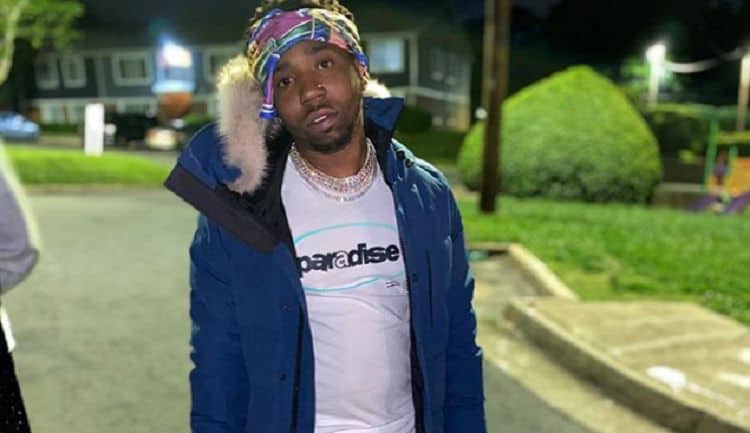 YFN Lucci is a rapper by profession who is best known for his "Wish Me Well" mixtape which debuted in 2016. The release earned him well-deserved recognition and he released the sequel, and his second mixtape "Wish Me Well 2" shortly after with "Key to the Streets" which became a big hit single from the album. Fans of his music are always happy to learn new information about the man behind the music, so here are 10 things that you probably didn't know about YFN Lucci.
1. His real name is Rayshawn
Although the rapper is best known as YFN Lucci, this is the stage name that he donned for professional reasons. His birth name is actually Rayshawn Lamar Bennett. He is a native of Atlanta, Georgia and he was born on February 18 of 1991. He didn't realize that he had talent as a rapper until he was 16 years of age, but since that time, he dedicated himself to developing and perfecting his craft and he's experiencing a high level of success in his chosen profession.
2. His career officially launched in 2014
YFN Lucci had been working on his compositions and promoting them but his big break came in 2014. This is when Think It's A Game Entertainment company decided to take a chance on him. They recorded his "Wish Me Well" mixtape and it became a big hit with rap music enthusiasts. This was his debut mixtape release and it launched him into the world of professional rap music, followed by "Wish Me Well 2," and most recently, an EP titled "Long Live Nut." Since that time YFN Lucci has worked with big names in the business including Lil Durk Rick Ross and other rappers in collaborative efforts.
3. He's following in his older brother's footsteps
Here is an interesting fact about YFN Lucci that we didn't know. His brother, who goes by the stage name of K, was a big influence on Rayshawn's rapping career. K encouraged Lucci in his musical pursuits as well as mentoring and motivating him to move forward in expressing his talent and creativity. Another rapper named Johnny Cinco also joined in mentoring young Lucci since he was just 16 years old, to keep him focused on the goal.
4. Rayshawn was a football player
When we looked into YFN Lucci's developmental years, it became apparent that he lived a fairly normal lifestyle. He and his brother were raised by their single mother, and he grew up in the Summer Hill neighborhood and attended Southside high school in that district. While he was in high school, he was a member of the football team. Rayshawn was involved in extracurricular activities in school and in addition to being a musician, he was also an athlete.
5. YFN Lucci has received national recognition
YFN Lucci isn't a struggling artist by any means. From the time that his debut mixtape was released, his career has been successful. In 2016, a single he released made it to the Hot New Hip Hop and XXL Hottest 50 Songs of 2016 list. This is a distinction in the business which highlights the best of the best. Forbes also listed his title "Key To The Streets" as one of the "5 Rap Singles to Watch on the Billboard Hot 100 Chart," which also promoted the merits of the video, although it had already gained in popularity. His videos have received millions of views on Vevo, BET, Fuse, and Revolt.
6. Rayshawn is a dad
Rapper YFN Lucci is enjoying success on the job for certain, but this isn't the only rewarding aspect of his life. He also has a family. He is also the father of two children. Rayshawn has a daughter named Liberty and a son named Justice. These are interesting names which show that he has some solid values when it comes to his belief in freedom for all as well as justice. He started dating Reginae Carter, who is also a rapper in 2018.
7. He's a first-generation American
Rayshawn Bennett is a part of the first generation in his family to be born in the United States. His parents are both immigrants to the United States from the country of Jamaica. His father was not present during his upbringing, but Rayshawn and his brothers were fortunate to have a mom who raised the boys, even though they didn't have a lot of money at the time. He has more than made up for the financial deficits with his success in the music business.
8. His net worth is increasing
Bennett has not yet reached the status of becoming a millionaire yet, but it's likely to go in that direction if he maintains his current trajectory in the music industry. His current net worth is estimated to be at around $300,000. If becoming a millionaire is one of his goals, then he's almost a third of the way there. His music is still popular and it's still selling.
9. His mom inspired him to record
When Rayshawn was just nine years old, he had a desire to make music. He began by making recordings of himself with a tape player that his mother purchased for him. His older brother was 12 at the time, and he also had a passion for rapping and Rayshawn imitated his brother. Both of the boys grew up to become professional rappers.
10. His girlfriend is Lil' Wayne's daughter
YFN Lucci is keeping his circle within the boundaries of the rapping scene. His current girlfriend, Reginae Carter is the daughter of famed rapper Lil' Wayne. Reginae is also a successful rapper in her own right.