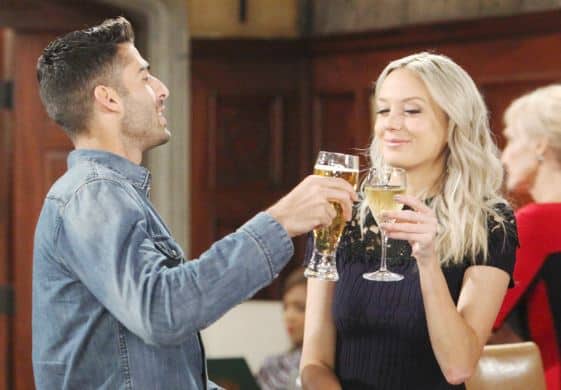 Young and the Restless fans are not surprised that Victoria has blamed the death of JT on her father. Her own son has come to her to find out what happened to him, and she had to do what she had to do. There was nothing else for her to do but go along with the lie that this was the truth. It's not an all out lie that her parent did kill her ex, but there is no truth to the fact that it was that specific parent. But for now, we can only assume that things will work out in some way for someone if we can just make it work. We cannot help but wonder if there is something we can do to get our own situations under control, though. There is a lot happening, and there is a lot that might just make it work for us. She's sharing this with him in hopes that he will let this all go and move on.
She was happy to see him, but she was not happy to know that he was home to find out what happened to his father. This is not news she was good to share with him, but this is the kind of news that will work out for everyone in his favor. Here is something that might work, too; he is going to let it go, and maybe she can move on. He's very angry with his mother, though, and he cannot forgive her for lying. We aren't sure he buys the story, but he's focused right now on the fact that his mother kept this from him and that is why this is all happening. But this will only cover it up in a way that's temporary. When Victor comes back, and the truth comes out, things will fall apart again.
What's Happening on Young and the Restless
It's official – The Young and the Restless has been the #1 daytime drama for 30 years, and that's all because of YOU! 👏 We know how amazing the #YR fans are and want to thank each and every one of you for tuning in weekdays on @CBS. Our cast and crew ❤️ you! pic.twitter.com/adiCEshGDT

— Young and Restless (@YandR_CBS) December 11, 2018
What an amazing honor to take home this title and this situation. We know that the fans love this show and all it brings to the table, which is why we all love it so much ourselves. This is really all there is to it.
What's Next on Young and the Restless
Cane makes amends with Devon today on #YR. pic.twitter.com/N0JnFktSJU

— Young and Restless (@YandR_CBS) December 12, 2018
Victoria can see that her mother feels that Mia is a good alliance to have on her side, but she doesn't agree with her mother's plan. She doesn't feel that Mia is the best choice in terms of someone to work with and someone to make her team, but she's not going to stop and worry about any of that at the moment. She's going to focus on what she can do and how she can make it work, and she is going to focus on the fact that things will work out in her favor, while she also focuses on making this end so she gets her own way. She's worried that this, combined with all the family connection in this situation, is not going to bode well for anyone outside of this circle.
And that's not all. We also think that there is going to be a bit of a situation in terms of what is happening with Mariah. She's in a situation that is not easy on her, but what will happen when it all goes down? What will happen when it all falls apart and everyone is there to see it? She knows she needs to end things with Tessa, but she's not done that yet. She's not made this decision for many reasons, one of which we assume is the fact that she's not in a good place to begin with — but what do we know?
Stay tuned for more Young and the Restless and be sure to check out TVOvermind daily for the latest Young and the Restless spoilers, news, and updates.