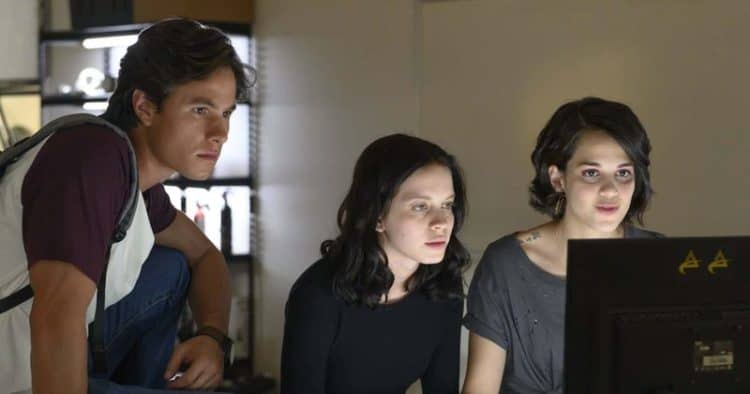 You may not be familiar with the name Zion Moreno now, but by this time next year that will probably have changed. The up and coming actress is on her way to becoming a household name. As one of the lead characters in the new Netflix series, Control Z, Zion was recently introduced to fans all over the world. The show, which was originally made in Spanish and features a mostly Mexican cast, features a group of high school students who are shocked when their darkest secrets are revealed by an unknown hacker. Not only has Control Z's popularity given Zion's career a huge boost, but she also has some big things in the works for next year. Keep reading for 10 things you didn't know about Zion Moreno.
1. She Is Transgender
Spoiler alert! In Control Z, it is revealed that Zion's character is transgender and transitioned from male to female at a young age. Although the show is fictional, this detail rings true in Zion's real life. She is a transgender woman and has shared that openly throughout her career.
2. She Will Be In The Upcoming Gossip Girl Remake
Gossip Girl fans everywhere will be excited to know that a remake of the show will be released next year on the new streaming platform, HBO Max. The opportunity won't be the first time Zion has to deal with the wrath of gossip girl. She also appeared in the Mexican version of the series called Gossip Girl: Acapulco.
3. She's A Poet
Acting might be Zion's 'thing' but it certainly isn't her only thing. She also enjoys writing poetry although her Instagram bio confesses that her poems are "bad". It doesn't look like she's shared any of her work yet, but I have a feeling she's just being modest.
4. She's From Texas
Texas has been known to be the home of some very talented people. Some of the most well-known people in the industry were born and raised in Texas (Beyonce, Selena Gomez, etc) and Zion Moreno is working hard to be added to that list. She was born in Texas but eventually moved to New Mexico with her family.
5. She Has An Impressive Instagram Following
Despite only having a few acting credits so far, Zion has already built up a very impressive fan base. On Instagram alone, she has more 357,000 followers. That number will likely only continue to grow as Control Z becomes more popular and the new Gossip Girl is released.
6. She's A Model
Zion is truly a natural in front of cameras of any kind. On top of her work in acting, Zion has also worked as a professional model. After moving to New York, she was scouted by an agent at Wilhemina. A few years ago, Zion was even hoping to land a spot on the cover of Sports Illustrated's infamous swimsuit edition. Although she didn't get the job, she definitely got her name out there.
7. She Loves The Beach
There's no denying the fact that Zion has a busy schedule that doesn't give her lots of time to kick back and unwind. However, when she does get the chance to get away from work, she enjoys spending her time on the beach. On a typical day off you can probably catch her soaking up some sun and working on her tan.
8. She Lives In Los Angeles
When Zion was 19-years-old, she decided to move to New York to help take her career to the next level. She didn't have a plan or a place to stay, but she quickly found success as a model. After a few years in New York, she decided to relocate to Los Angeles in order to put herself in a position to get more acting opportunities. She currently lives in Los Angeles.
9. She's Bilingual
Zion was born and raised in the United States, but she has is of Mexican descent. She can speak both English and Spanish fluently. The ability to speak both languages will definitely open up more opportunities as Zion continues to build her brand as an actress.
10. She Encourages Kindness
With all of the negative things that happen in the world on a regular basis, most people would probably agree that the world could use a little more kindness. Zion is a firm believer in the importance of kindness, and urges people to not only be kind to others, but to themselves as well.